KS 2017 Legislature Moves Away From Freedom
July 9, 2017
Legislature Moves Away From Freedom in the 2017 Session:
--- click here for KPI article
--- click here for the full Sentinel article
"... To declare oneself a "Republican" and then vote to the left of every Democrat in the legislature is an act of either total political ignorance or pure political deception, the latter much more likely. These 26 "Republicans" are the "stealth candidates"..."
Review Scores of the complete 2017 legislatures & methodology of the Scoring - click here
Three local Republicans are in the WRONG party as they are voting solidly LEFT against Freedom even more so than the local Democrats...Determine who they are by going to the above link!!!
Even the "Republican" Speaker of the House, Ron Ryckman, showed his true alligence scoring markedly away from Freedom with an individual score of -11.
"... There was also a pronounced movement away from freedom among leadership in both chambers. The Freedom Index for House leadership fell from 67 percent last year to 29 percent this year; Senate leadership dropped from 62 percent to 26 percent.
This guide is a one-stop shop for the impact that legislative votes have on your ability to run your business, live your life, and raise your family as you see fit. It is the product of nonpartisan analysis, study, and research and is not intended to directly or indirectly endorse or oppose any candidate for public office. ..."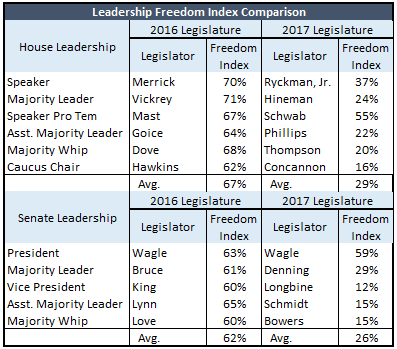 << Go Back